'Live In Paris' iNNOCENCE + eXPERIENCE Bluray / DVD
Started by
EliezerPOP
,
Apr 19 2016 02:24 PM
#U2ieTour
Best Answer Max Tsukino , 13 May 2016 - 09:22 AM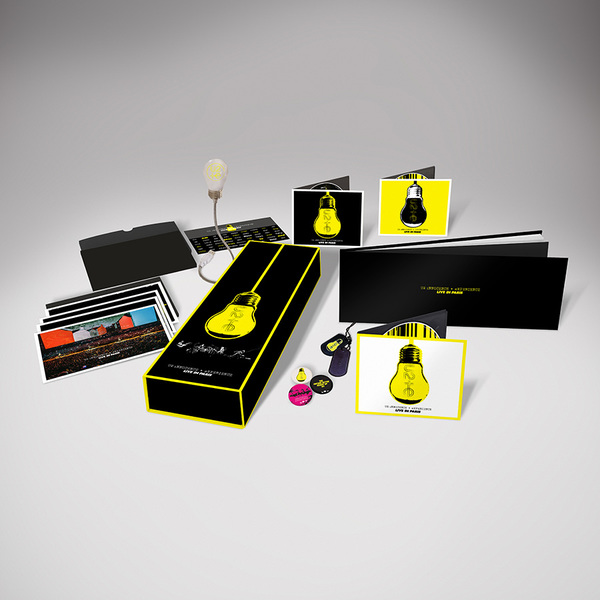 all the info ---> http://www.u2.com/ne...ve-in-paris-dvd
Go to the full post
Posted 25 June 2016 - 03:12 AM
Pffff .... € 25.00 shipping costs is WAY TOO MUCH!!
Yeah that's a joke. Refuse to buy anything online where the postage is disproportionate to the size or value of the item being shipped! Waited to buy in store (which is very difficult these days!)
---
Posted 03 July 2016 - 08:04 AM
edited. I just want to say.....I was so happy with this DVD....
Edited by badsilver, 03 July 2016 - 08:07 AM.
---
Posted 13 July 2016 - 08:12 PM
I love this so much! What a spectacular show! My only negative critique is Eagles of Death Metal closing the show. I'm sorry for what they went through, but I think their music is terrible. It was very kind of U2 to share the stage with them however, maybe it could've been included as an "extra" and been left out of the DVD proper.
Neat trinkets inside the box, love the USB light bulb, too. Clever idea!
---
---
Also tagged with one or more of these keywords: #U2ieTour
fORUMS of iNNOCENCE (Zoo Free Forums)

→

All About U2

→

U2 'Net News & Rumours

→


Started by 504jumper ,

16 Jun 2016

#u2

,

#u2ietour

,

2017

,

tour

and 3 more...

Hot

24 replies
2,816 views

fORUMS of iNNOCENCE (Zoo Free Forums)

→

All About U2

→


Started by U2Community ,

02 Jun 2016

#U2ieTour

,

#U2LiveInParis

Hot

24 replies
1,693 views

fORUMS of iNNOCENCE (Zoo Free Forums)

→

U2 iNNOCENCE + eXPERIENCE Tour 2015 (archived, read only)

→

#U2ieTour Reviews & Comments Threads

→

Poll


Started by Max Tsukino ,

08 Dec 2015

Fan Reviews

,

#U2ieTour

and 1 more...



Answered fORUMS of iNNOCENCE (Zoo Free Forums)

→

U2 iNNOCENCE + eXPERIENCE Tour 2015 (archived, read only)

→

#U2ieTour Live Threads

→


Started by Max Tsukino ,

06 Dec 2015

#U2ieTourParis

,

Live Threads

and 3 more...

Hot

443 replies
11,270 views

fORUMS of iNNOCENCE (Zoo Free Forums)

→

All About U2

→


Started by U2Community ,

29 Nov 2015

#U2ieTour

,

#U2ForParis

Hot

38 replies
1,544 views